Black Garlic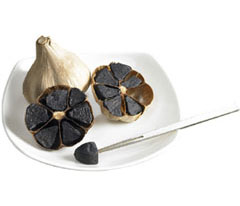 Date 31 March 2009
Have you all heard of black garlic? Today, I would like to introduce black garlic, another latest spice for the chefs. haha!
The product was developed by Scott Kim in the year 2004 in South Korea.
Whats so good about black garlic?
According to some articles i read, black garlic has a very high level of antioxidants and nature cancer-preventing compound.
Taste of black garlic
Black garlic offers a slightly sweet, licorice twist and a chewy texture.
[Sources :
http://www.miamiherald.com/living/food/story/943531.html
Today is the last day of this month. We are stepping into the month of april. Haha! Anyway, Good luck people for tmr. Its April FOOL day. Happy birthday to joanne and all those that were born today. Enjoy and have a fun one.